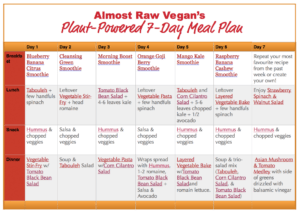 Plant-Powered Recipes & 7-Day Meal Plan is a 100% almost raw vegan, whole food, plant-based meal plan designed to support your health & weigh-loss goals.
Want to enjoy healthy & delicious breakfast, lunch, dinner & snacks for a whole week?
Discover just how easy peasy it is to adopt almost raw vegan meals.
Need a quick and EASY PEASY approach to meal preparation? Discover my TOP 5 weekly meal preparation TIPS, everything you need to make it even easier to adopt a 100% Almost Raw Vegan Whole Food Plant-Based meals.
Let your body enjoy the benefits of 100% Almost Raw Vegan whole food plant based meals and rid yourself of the cravings to non plant-based foods and experience the benefits and experience weight loss, increased energy, glowing complexion and so much more!
Inside at a glance:
MEAL PLAN: A pull-out meal plan chart with easy access to the 7 days of 100% almost raw vegan, whole food plant-based recipes including green smoothies, salads, soups, pasta dinners, vegetable stir-fry & more!
RECIPES: All recipes included in the GUIDE for easy access, with easy peasy instructions and full colour photo's for all recipes.
PREP TIPS: Get my TOP 5 meal preparation TIPS and take time one day a week to get ready for the week.
USER-FRIENDLY GUIDE: The GUIDE is in a mobile friendly, printer friendly PDF format, makes it easy to keep handy while shopping, while in the kitchen cooking and more!

Plant-Powered Recipes & 7-Day Meal Plan is for you if you want to:
wake up feeling energized & be more energetic throughout the day

look & feel your best

glowing complexion

lose unwanted weight

clarity of mind (lose that pesky brain fog!)

start to crave healthy foods

sleep more soundly

beat (once and for all) those unwanted junk food cravings, weight, and health challenges
The Plant-Powered Recipes & 7-Day Almost Raw Vegan Meal Plan will kickstart your body and help you to achieve these amazing benefits.